EQUIX has advised horsemen since 1984, and we still work with some of our first customers. Our OptiMatch® breeding program was immediately popular and added a new dimension to the art of planning matings.
One of our first clients was Franklin Groves's North Ridge Farm, which earned an Eclipse Award as Outstanding Breeder in 1989. EQUIX also assisted in planning the matings that produced 1992 Kentucy Derby winner Lil E. Tee and 1991 Breeders' Cup Turf winner and Champion Miss Alleged.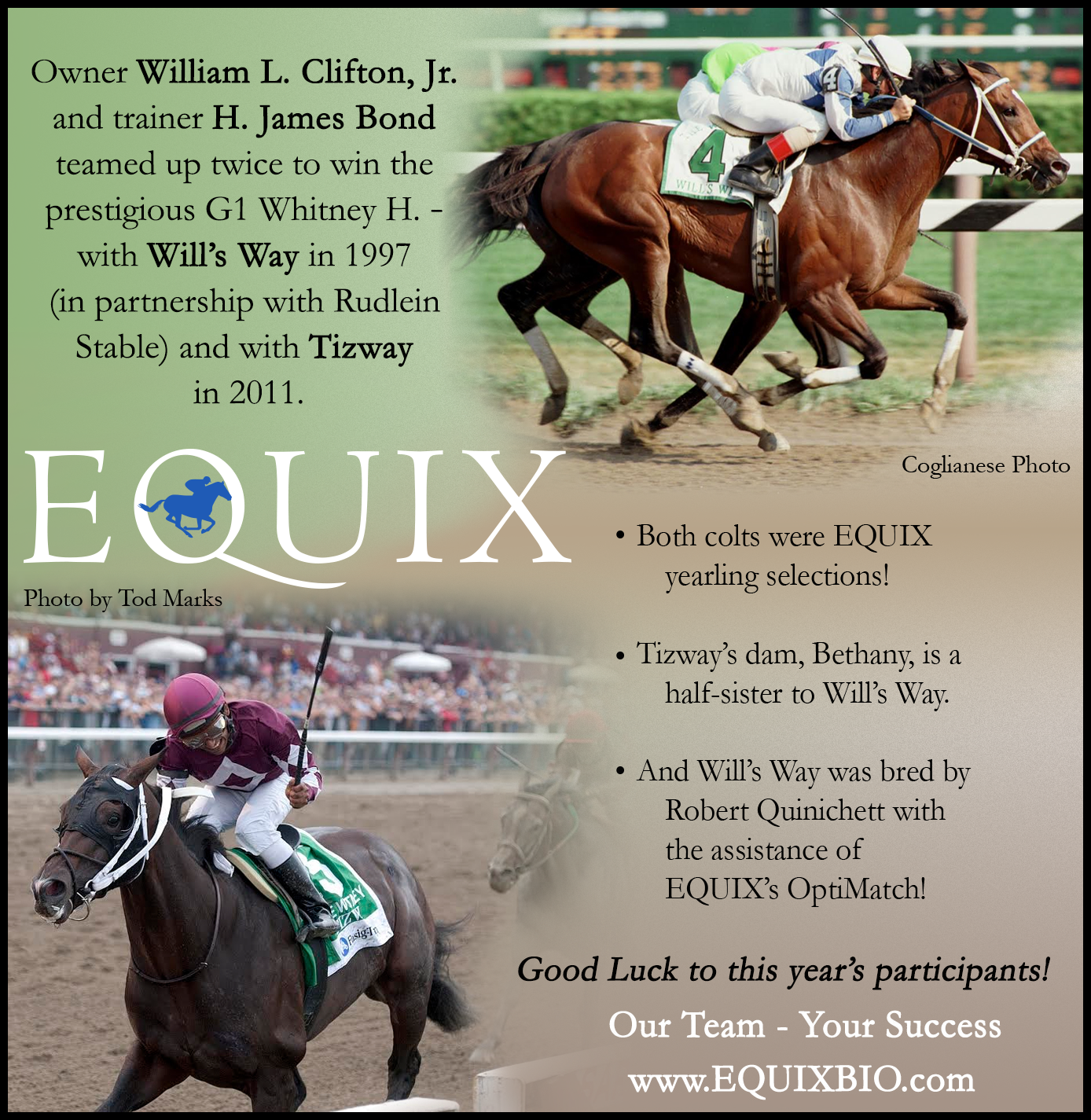 ---
EQUIX served as an advisor to Eugene Melnyk and his Winding Oaks Farm from 1998 through his dispersal in July 2014 and helped select and identify many of his most successful racehorses: G1 SWs Speightstown, Flower Alley, Harmony Lodge, Bishop Court Hill, and Pool Land; G2 SWs Strong Hope, Indian Vale, and Harlington; and countless other stakes winners.
When his operations developed into a breed-to-race program, EQUIX provided OptiMatch® data for the Winding Oaks mares. Melnyk color bearers include Sovereign Award winners Sealy Hill, Marchfield, Roxy Gap, and Leigh Court; GSWs Bridgetown, James Street, Sterwins, Gemswick Park; SWs Barracks Road, Carem Crescent, Clement Rock, and many others.
After the dispersal, the Winding Oaks success story continued with more racehorses from the Melnyk breeding program racing around the country, including G1 SWs Wavell Avenue, Bullards Alley, and Lukes Alley. GSWs include Hillaby, Belle Hill, Glenville Gardens and Karibu Gardens.
Mr. Melnyk ranked among the top five leading owners and breeders in North America for several years. He was honored with a Sovereign Award for Leading Owner and Leading Breeder in Canada in 2009. He also was honored as Outstanding Owner of the Year in 2005 by the Thoroughbred Owners and Breeders Association and was a finalist for an Eclipse Award as Leading Owner that same year.
---
EQUIX clients we have worked with and selected horses for over the years include:
---
William L. Clifton, Jr. campaigned G1 SWs Tizway ($1.3-million earner), Behrens ($4.5-million earner), Will's Way ($954k earner), plus other Graded earners Prioritize, Our Way, Empressof the Nile, Kitty in a Tizzy, Hostess, Solitaire, Pleasant Breeze ($1.2-million earner), Fortuitous, Transcendental, Magical Illusion, Legislator, Hot and Spicy, Ok by Me, Nevermore, and many more. Using OptiMatch®, Mr. Clifton bred GSWs Rhythm Band ($1.3-million earner) and Willy o'the Valley and GSP winners Senor Fizz and Musical. Will's Way was also bred by EQUIX client Robert Quinichett using OptiMatch®.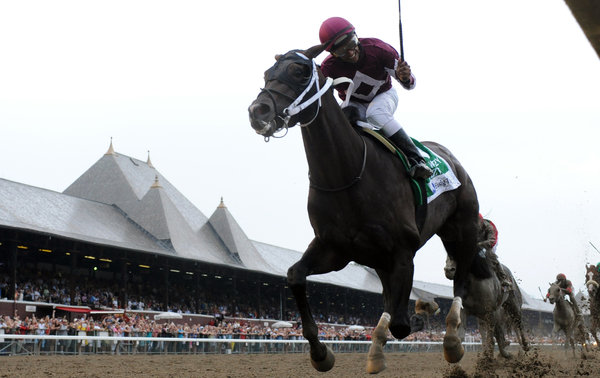 Tizway
---
Selections for Jim and Susan Hill include Sovereign Award winner Solid Appeal, G1 SW Grand Arch ($1.8-million earner), GSWs Go Blue or Go Home, Sharp Sensation, Tizahit, Canadian classic winner Miami Deco, SW Lemon Splendor, GSP Way Early, Holiday Stone, and Monty's Best, MSP City Trooper and Platinum Exchange.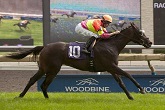 Solid Appeal
---
Selections at the 2YO sales for Robert Bartels include GSW Shadowbdancing ($1-million earner), MSW Bluesbdancing, and SP Phaniebdancing and Readybdancing. Using Optimatch, Mr. Bartels bred MSW/GSP Babybluesbdancing.
Denholtz Stable selections at the 2YO Sales include MSW Dances for Ashley and MSP Originator.
Silverton Hill's G1 Blue Grass Stakes winner Dominican and GSP Sedgefield made an entry in the 2007 Kentucky Derby. Both were 2YO sales selections, as was GSP winner St. Joe.
Robert and Lawana Low raced and/or bred G1 SW Capote Belle and G1 Kentucky Derby placed Steppenwolfer, along with the GSWs Posse, Real Cozzy, and Green Fee. Other SWs include Agent di Nozzo, Zapper Belle, and Ha Ha Tonka.
---
EQUIX's OptiMatch® breeding program assisted these clients, and many others, with their mating selections:
---
Bonner Young of Bonner Farm bred and raced G1 SW Bit of Whimsy, along with G1SWs Miss Josh and Royal Mountain Inn, G2 SW Caroline Thomas, G3 SWs Highland Crystal and Highland Springs, and other graded performers. SW My Sweet Girl, SW/G1SP Highland Sky, GSP Sky Blazer, and GSP Kulin Rock have also carried her colors.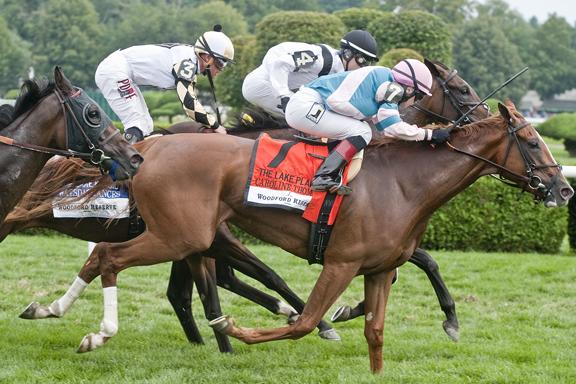 Caroline Thomas
---
Monticule, breeder of Champion Big Brown, also bred G1 SW Annals of Time, GSWs Signalman, Archaggelos, Prussian, Joe Vann, and Dijeerr; SWs Isn't He Clever, Sharp Writer, Glenwood Canyon, Queen of the Creek, Arch Traveler, Sky's Goldmaker; MGSP Adventist, MSP Divine Dutchess, and others. Monticule also sold a $9-million yearling by Danzig using OptiMatch®.
---
Red Oak Stables ranks among the Leading Owners at Monmouth Park each year. Their breed-to-race program, based at their Ocala, Florida, farm, has produced many black-type earners over the years, including G1SW and millionaire Unbridled Mo, G1SW Mind Control, GSW Unbridled Essence; MSW/GSP Bal Harbour; MSW King for a Day; SWs Stand and Salute, Casino Transaction, Feel That Fire, and Ima Jersey Girl; GSP Unbridled Daddy; and SP runners Crazy Daisy, Let's Parlay, Charleymillionaire, Dancing Lion, Debonair Darling, and Keep the Canoli.
Mind Control
---
Betz Thoroughbreds, a leading consignor and producer of high quality yearlings, bred MG1SWs Hoppertunity and Executiveprivilege, GSWs J Boys Echo and High Ridge Road; SWs Into Trouble and Red Lodge; GSP Golden Domer, Calf Moon Bay, and Unbridled Outlaw; and SP Dragic and Golden Jaguar.
Betz Thoroughbreds was the Leading Consignor by Average Price ($263,947) with 15 or more yearlings sold at the 2018 Keeneland September sale. In 2017, the Betz consignment was the 2nd leading consignor by Average Price ($272,462) with 13 or more yearlings sold.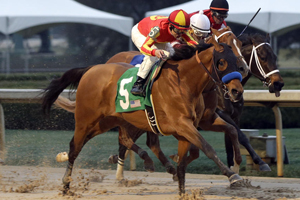 Hoppertunity
---
Hinkle Farms, another leading yearling consignor, sold the highest-priced War Front filly at the 2018 Keeneland September sale with a hammer price of $1.75-million. Their more recent stakes performers include GSWs Current and Draft Pick, and SW/GSP Orbolution.
Current
---
Robert Harvey bred and raced Hollinger, Sovereign Award winner for Champion 2YO in Canada, and bred GSW Bickersons, MSW Calling Rhy Rhy, GSP Dancehall Deelites, and SP Hot and Spicy, Escondera, Sky Racer, and Banker's Street. EQUIX also assisted Mr. Harvey in selecting 2001 Sovereign Award winner Numerous Times as a yearling.
---
Richard Leahy's Oak Bluff Stable's breeding program focuses on New Yord-breds and, using OptiMatch®, has produced G1SW Audible ($2.1-million earner), MSW/G1SP and millionaire in Japan Rieno Tesoro, SW/MGSP Govenor Malibu; MSW/GSP Therapist and SP Kitty Panda. Mr. Leahy also campaigned Akilina (a MSW/GSP runner in NY), the dam of Govenor Malibu and Rieno Tesoro.
Therapist
---
Siena Farm-bred stakes performers include: G1 SW Angela Renee, MGSW Isabella Sings; GSWs Point of Honor, Mr Freeze, and National Flag; MSWs Alaura Michelle and Outside Nashville; SWs Tesora, Elnaawi, and Velvet Mood; G1SP Identity Politics and GSP Bernina Star, Private Ensign, and Dewey Square; and SP Classy Dancer and Anna Sophia.
Bill Geist's Woodbridge Farm bred G1 SW Bevo, GSW Wilburn and his dam, GSW Moonlight Sonata. This mare also produced GSW Beethoven and the sale of her offspring at auction grossed $2.1-million for our client.
Richard Rudolph's breeding program focused on Illinois-breds and he had great success with OptiMatch®, producing SW Deposit Express and her offspring MSW Magnetic Miss, SW/MSP Royal Express, and SW Hydro Power. He also bred GSW Stonehouse, MSW/GSP San Pedro, SW Freeway Ticket, and GSP Castlewood.
Duke Burris's foundation mare Goldspell, produced SW Bashful Charmer and her other daughter, Lovethespell, produced SW/GSP Cool Spell (dam of MSW Coarsegold), MSW Our Double Play, and GSP Presto Change O.
---